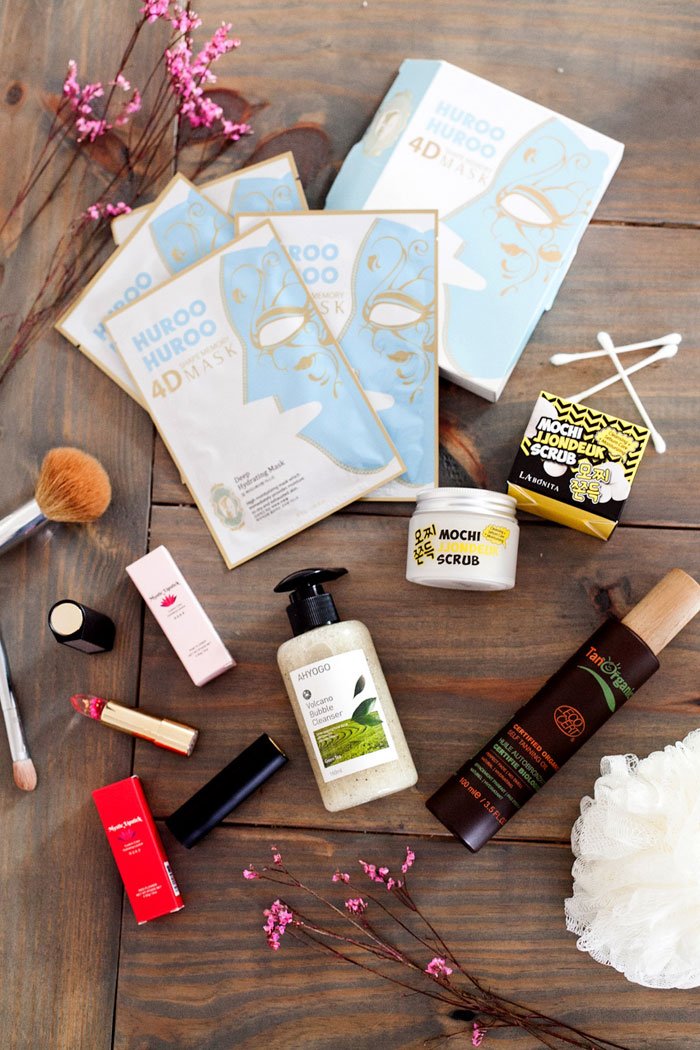 I don't know about you but the older I get, the more focused my beauty routine has changed from makeup to skin care. The first step in keeping people guessing about your age is taking care of your skin! Finding the right products for you can take some time, but the process of trying and testing is sure to be fun. And trying new beauty products, especially from different countries, is definitely on my list for testing.
Check out these 5 new beauty items you didn't know you needed!
1. Volcano Bubble Cleanser
One of my favorite finds when it comes to beauty products is something that makes me feel like I'm at the spa. The AHYOGO Volcano Bubble Cleanser, does just that. It's light and creamy lather on my face left me feeling invigorated and thoroughly cleansed. Plus, my bathroom had that amazing clean crisp spa smell!
2. Mochi Jjondeuk Scrub
When I've had a long day and I'm feeling the need for a deeper cleanse I will reach for a facial scrub. The Mochi Jjondeuk Scrub is really fine in texture, so it isn't too rough on your skin, but it still works off all the dirt and grime from a hard day. This exfoliator is rich and creamy, smells like a yummy dessert and left my skin feeling super soft, moisturized and bonus… it gave me a nice youthful glow.
3. Huroo Huroo Masks
Face masks are one of my favorite forms of at home pampering. I personally have an entire drawer full of cream masks, mud masks, sheet masks… you name it, I've got it and I am always looking to add to my collection. So when I saw the Huroo Huroo 4D Shape Memory Masks, you know I was excited to give them a try.  The difference between these masks and the other sheet masks that I've tried in the past, is how these masks were created to hug the curves of your face. You apply them by putting your chin in first and then pull and mold it to the rest of you face. Because it is a full mask and not a flat mask, I found that I didn't struggle with it slipping off. I was able to do the dishes and pamper my face all at the same time. On top of the cool 4D shape, these masks were incredibly hydrating. After just 20 minutes, my skin felt and looked like I had spent the day getting a refreshing facial.
4. Tan Organic
I don't know about you, but I always feel better with a tan, there is something about a tan that gives me a boost in my confidence. As much as I love the look of a tan, I know how bad prolonged tanning in the sun or in a sunbed can be for your skin.  Because of this, I have been on the search for an at home tanning treatment that has a natural look, simple fool-proof application (no one likes patchy orange spots,) and doesn't have that fake tan smell. Enter, Tan Organic. The oil application was new for me, and honestly I was a little nervous that I was't doing it right, but the result, however was a smooth, moisturized glow. And I was surprised by the refreshing scent as well!
5. Mystic Lipstick
Now that our skin is looking refreshed and has a beautiful natural glow, so our last order of business is going to be our pout.  Being a lover of long lasting matte lipstick and well all lipstick in general, I have learned just how important it is to give my lips some Vitamin E love in order to keep them soft and smooth. Mystic Lipstick, in both pink and red, bring both beauty and care to the party. These beautiful lipsticks are more like a lip treatment with a natural tint to them. For the days where my lips are craving moisture and need a little break, the Mystic Lipstick gives my lips a natural pink or red hue and coats them in moisture at the same time. To top it off, the lipsticks themselves are beautiful to look at, I mean they have edible gold flecks and flowers in them, and their case has a mirror on it for easy application. These lipsticks have turned into a special little something to carry and can be a fun conversation starter.
If you are in the market for some new pamper products to boost up your skin care regime, all of these products would be a great addition to your beauty arsenal.