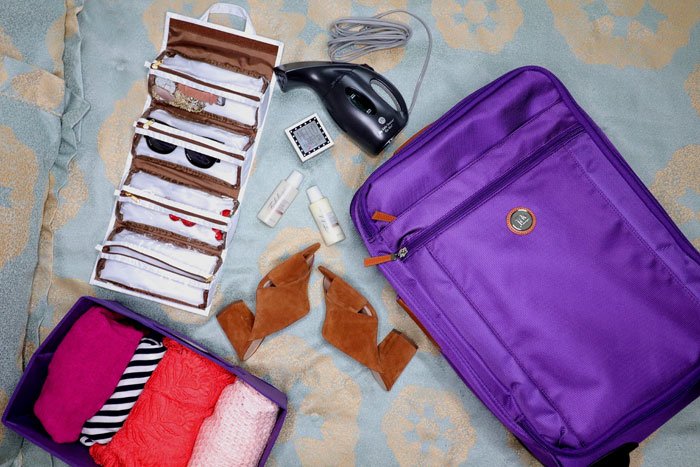 School is back in session and chances are you're already counting down the day to your kid's spring break (OK, OK, it's your spring break, too). Whether you're heading somewhere tropical, hitting the slopes, or paying a visit to your favorite mouse, smart packing for your destination is key to vacation victory. I've put together my recommendations for the three essential items you should add to your suitcase per destination (spoiler alert: shoes reign supreme!).
Theme Park
Whether you're park hopping or riding your favorite roller coaster over and over again, if there's one thing all theme parks have in common it's being on your feet! It's all about comfort and function to get the most out of your days exploring your favorite attractions.
Comfortable Shoes: Bring along shoes made for walking like these Jessica Simpson sneakers that come in four different colors, so you can find the perfect pair for your personal style. What's better is they'll go far even after your vacation is complete. Take them to the gym or add them to your weekend athleisure look.
Sun Protection: One thing to remember is you're going to be outside a lot during your trip. Adding sunscreen to your packing list like this duo set from PHD Skin Care will keep you and your family safe from those harmful rays.
Backpack: While that cute cross-body bag is great for date night, it's not the best for a long day roaming the parks. Add this backpack from Soular to your suitcase and load up your cameras, sunscreen and other essentials for functional fun.
Mountain Cabin
If you're heading for the mountains, it's important to pack smart as your items will be bulkier and ultimately take up more of that precious suitcase space. I recommend packing everyday items that can be worn over and over again so you can have more room for other packing necessities like accessories and souvenirs.
Snow Boots: If you're going to spend your days frolicking through snow, make sure to pack appropriate shoes for the cold weather. These winter boots from London Fog are a great staple for your vacation looks while still providing the protection and warmth your piggies need.
Winter Jacket: Your jacket is probably going to be the bulkiest item in your luggage. If you can, wear it on the plane to save space. This down jacket from Curations Caravan will definitely make you the warmest (and cutest) snow bunny on the hill.
Gloves: Just like your toes, those fingers of yours are going to want to stay warm. What I love about these gloves from Hot Headz is they come with removable mitts that give access to your digits for when you need to take that snow lift selfie.
Tropical Getaway
Palm trees, sea breeze and not a care in the world: This is my kind of vacation! I always find beach trips to be the easiest vacations to pack for.
Sandals: I hope you scheduled that pedicure because when the ocean calls, your toes will want to jump in! Personally, I only pack sandals for beach trips. I like them because they're easy to slide on and off and just put me in a vacation mood. If traditional flip flops aren't your thing, give these Sam Edelman lace up scarf sandals a try and amplify your beach look.
Maxi Dress: A great maxi dress can make an outfit that took 10 minutes to put together look like you brought along your own personal glam squad. I love maxis for vacations because they take minimum effort and never disappoint. Try finding one with a fun print like this N Natori caftan for a vacation outfit that will take you from the beach to dinner.
Beach Bag: A good tote is key on a tropical getaway. I like having one bag that will take me from day to night and every beach in between. This BUCO laser cut tote is a stylish option in lieu of a traditional beach bag, making it a great staple for long after that tan has faded away.
No matter where you're going, smart packing can also help you stay organized during your vacation. Have you seen this luggage that comes equipped with dressers from Joy Mangano? I love that I can pack all of my things and basically already be unpacked when I arrive at my destination. The built-in dressers are such a smart touch and this mini steamer and better beauty case are great additions to any traveler's suitcase.
Where are you planning to travel this spring?
See more of Audrey's work on her blog, Happily Audrey.