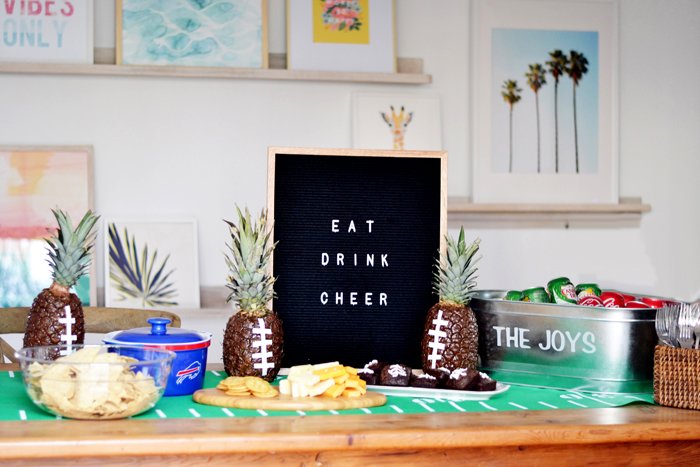 It's almost time for the Big Game and although I don't know one thing about football, who doesn't love an excuse to make yummy comfort food, drink beer and get together with friends and family. We are hosting this year and I found some adorable festive football decorations for our table and came up with a little DIY that is super cute!
I was so excited to learn that HSN.com has an entire NFL shop with so many team products including some adorable serving pieces that are perfect for game day. My husband loves the Buffalo Bills and was so happy to see that he finally had some pieces he could call his own in our kitchen! This cutting board is just the right size to serve cheese and crackers and how cute is it?? The oven bowl is perfect for hot dips and chili, and so easy to pull right out of the oven and onto the table. And it's not game day without ready-to-serve cold refreshments so this Personal Creations Galvanized Beverage Tub that sits right on the table is perfect!
Now, onto the DIY, anyone who knows me knows #ihavethisthingwithpineapples. When I was thinking about what I could use to make footballs, pineapples immediately came to mind because of their oval shape. This project was SO SO easy and will be the star of the table… well, next to the buffalo chicken dip. All you do is take the pineapple, spray paint it brown (covering the leaves on the top so they stay green) and use white tape to make the lines down the center. I used a white tape I found at the craft store and split it in half so the lines were more true-to-size. They look super cute lined down the table don't you think? They would also make a perfect homemade hostess gift if you're heading to someone else's house for the Big Game.
Enjoy your day everyone!