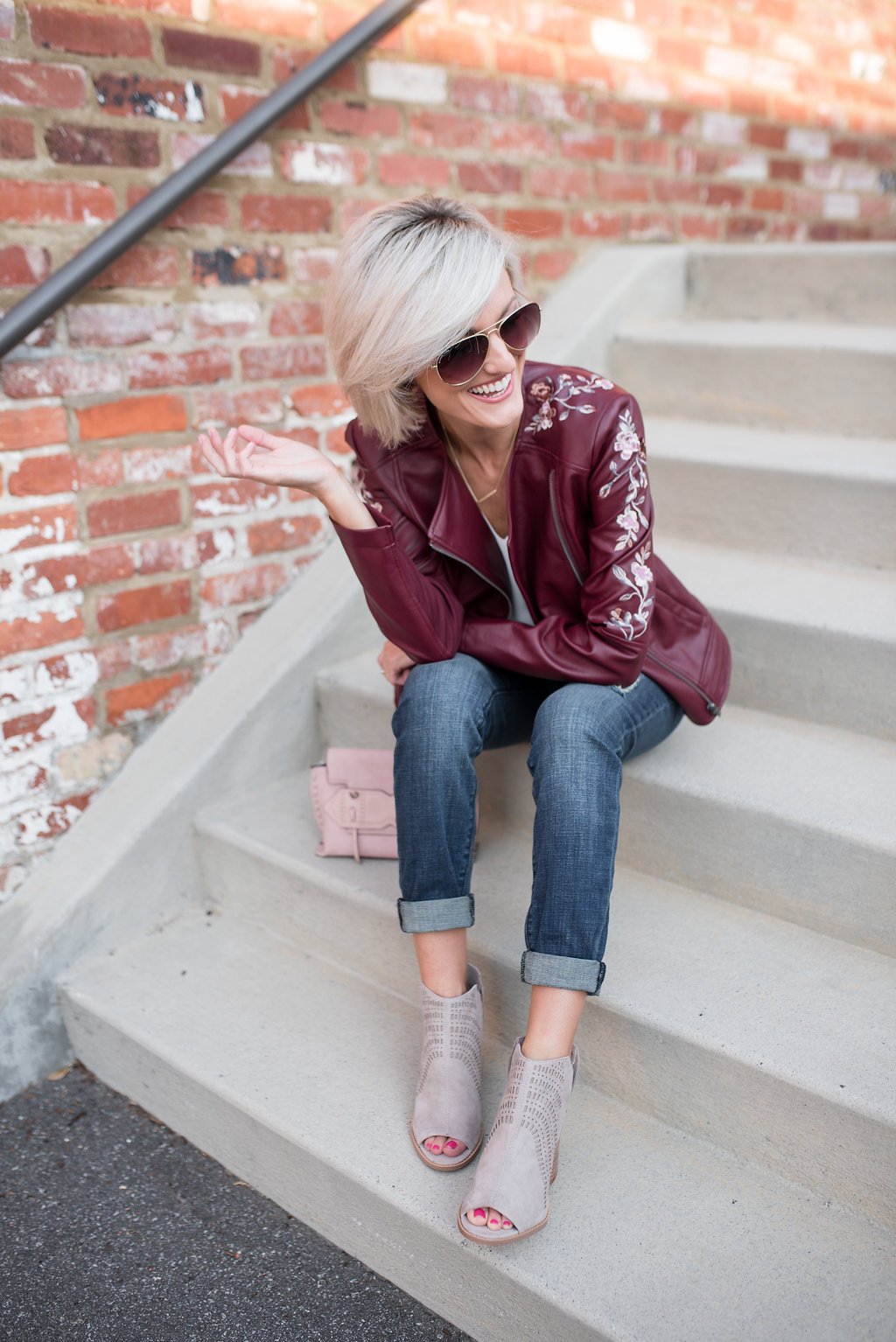 With Fall in the air, one of my favorite trends this season is a faux leather, embroidered jacket paired with girlfriend style jeans. This look allows for minimal effort, while still looking put together. Plus, both pieces can be worn separately and will still look great with other items. I think it's smart to invest in pieces like this so you will get more bang for your buck!
So let's break this outfit down, starting with my girlfriend jeans from HSN. This is actually my first pair of girlfriend style jeans and I have to say, I'm a fan! The jeans are comfy and a little oversized. There is nothing worse than jeans that are way too tight. This style is flattering because they are tailored to fit, while still having a little give to them. I really like the color of these jeans and the distressed details. They have a low waist but because they aren't too tight, the low waist works great and is still very comfortable. I am wearing a zero and would say they run true to size!
Next, we have this amazing burgundy, faux leather, embroidered jacket. Every year I go on a hunt for the perfect faux leather jacket and this one with the embroidery is amazing! I love the color and think it will be perfect to cheer on the Florida State Seminoles as the weather gets cooler. I really like the collarless neckline and that alone makes the jacket feel more feminine to me. Sometimes a chunky collar can be overbearing, especially if you are petite. I'm wearing my normal XS and say that it fits true to size.
No good outfit will come together without the perfect pair of shoes. These open toed booties by Vince Camuto at HSN is just what this outfit needs! In the South, it's not crazy cold yet and probably won't be for a few more months. I want to start wearing fall items but also don't want to overheat. I really like the bootie look of these shoes, but the open toe allows you to be cooler but still look like you are heading into Fall. The heel height is perfect and comfortable to walk in all day. The color I'm wearing is called London Fog but they are available in three other color options too. My next favorite color is called Tornado! I ordered my regular 6.5 and they fit well.
To complete this look, I added a soft pink clutch. This one can be worn alone, or as a cross-body using the included silver chain. It's available in a few other colors and styles if you wanted something a little bigger.
What are items are on your fall must-have list this season?
Photos by KVC Photography