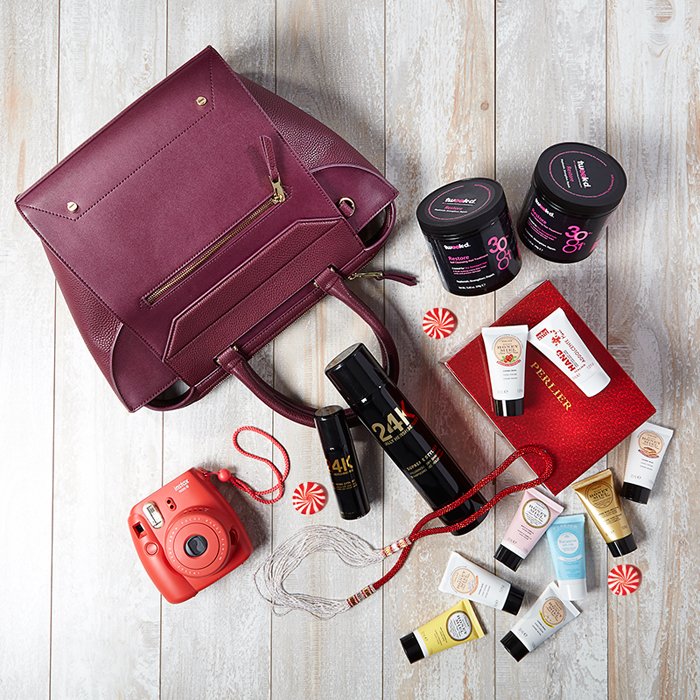 When it comes to shopping for gifts, it's easy to become a little overwhelmed. So many choices, how can you make a confident decision? Whether you're looking for your family, friends or co-workers, let us be your one-stop gift shop! There's items for everyone on your gifting list this year – including yourself! Place your mouse over the picture above to see more details for some of our top picks.
You can never go wrong with a fabulous tote bag that holds all the essentials. After all, the holiday season is one where most of us are on the go or traveling. But, with a crazy schedule comes the need for some great products to help you hold your look together. This dry shampoo duo is perfect for your bathroom at home or in your travel kit. Say goodbye to bed head and hello to refreshed hair that is ready in a cinch. Or indulge in this luxurious hair treatment! Looking for a fresh new scent? This Lancome perfume smells heavenly! The gorgeous bottle makes it a wonderful gift for your sister or best friend.
Planning to spend time traveling or with loved ones? Be sure to capture all of the moments with this fun polaroid camera – this makes a great gift for anyone! It even includes a case and pack of photo paper. And that cold weather will have nothing on you with the help of this 20-piece hand cream set. Is 20 too many for you to hold onto? These make the best mini gifts or stocking stuffers for anyone! Buy a cute mug, fill with some candy and a few of these fabulous minis for a great quick gift!
What are some of your favorite items to gift during the holiday season?