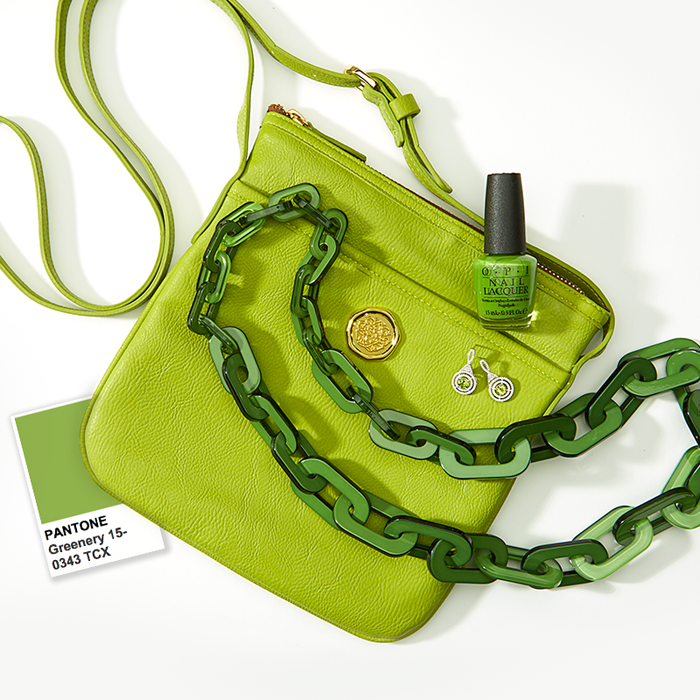 If spring is your favorite season, then you'll love 2017's PANTONE Color Of The Year: Greenery. A "zesty yellow-green shade," this hue is sure to spark feelings of new beginnings and what better place to start than with your closet? Here are three ways to add Greenery to your wardrobe this year.
1. Little Details
Get creative by introducing greenery to your wardrobe with sophisticated hints in your jewelry and maybe even your manicure. Sometimes all it takes is one addition to your outfit to take your look to the next level. Put on these Rarities Peridot Drop Earrings when you plan to wear your hair in a braid or away from your face to really accentuate the green stone. And the next time you go in for your weekly French Manicure, substitute it for a spring-inspired hue with OPI's "I'm Sooo Swamped."
2. Pop Of Color
If you're introducing a new shade to your wardrobe, I recommend starting with small pops of color and continue building from there. Add subtle green touches to your outfit with a necklace or a stylish crossbody bag. For a more neutral look, style this bag from Anna Griffin with a white t-shirt and boyfriend jeans or amp things up on date night by adding this Rara Avis Chain Link necklace to a magenta cocktail dress.
3. Go All Out
If green is your spirit color, why not go all out and create a head-to-toe monotone look? Work together an outfit with two or three pieces in varying shades of green for a standout look that will make everyone green with envy. Try a greenery oversized sweater with an emerald pencil skirt and even darker green heels. If you're adventurous enough to take on the monotone trend, let the outfit do the talking and keep your accessories and makeup neutral for a polished finish.
How are you wearing Pantone's Color of the Year? Is greenery a color you typically wear?
To see more of Audrey's work you can visit her blog, Happily Audrey.